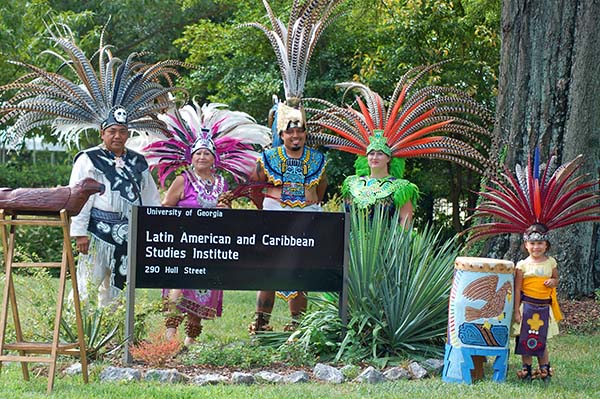 September 15 - October 15 is Hispanic Heritage Month and the Latin American and Caribbean Studies Institute is leading campus efforts in this celebration of our cultural richness. Events have already begun, but many more are upcoming; be sure and mark your calendar:
Sept. 24 - Latin American Trivia and Empanada Sale

Lambda Theta Alpha Latin Sorority, Delta Alpha Chapter will host a Latin American trivia time and empanada sale from 11 a.m. to 2 p.m. on the Tate Student Center Plaza. Empanadas-with fillings such as beef, chicken and cheese-will be $2 each.

Sept. 26 - Presentation of the Latin American Film Festival at LACSI

Actress Sonia Guedes, who plays the main character in "Historias que so existem quando lembradas," will be discussing the Brazilian film translated "Stories only exist when remembered" at 5 p.m. in the LACSI office.

Oct. 3 - Voto Latino

Hispanic, Latino and Latina student organizations will be holding a voter registration drive from 11 a.m. to 2 p.m. on the Tate Student Center Plaza.
These are followed by Latino Fest 2012 on Oct. 20, hosted by Athens non-profit, Casa de Amistad. The Latin American Film Festival 2012 at the Georgia Museum of Art runs every Thursday beginning Sept. 27. Schedule is at the link. Be sure to take advantage of these terrific offerings.
Image: Members of Chicahua Yolotli, an Aztec dance and music ensemble that performed at three Athens-area elementary schools on September 14, courtesy of Paul Duncan, LACSI-UGA.
Tweet